Olympia Becomes the Official Provider of Athletic Training, Chiropractic and Physical Therapy for the Elmhurst Rugby Club
20 February 2017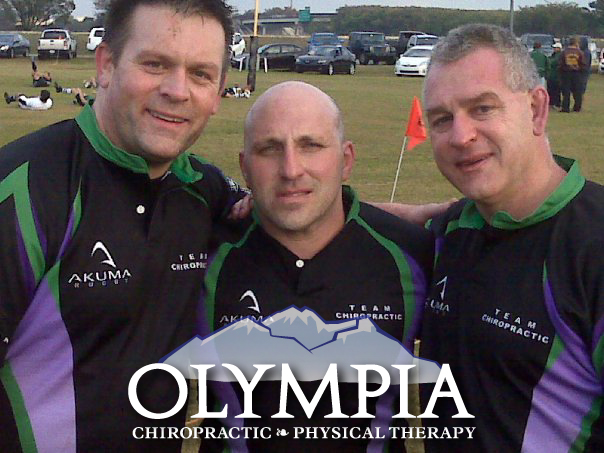 Elmhurst Rugby is very proud to announce our partnership with Olympia Chiropractic and Physical Therapy, a pillar of the Elmhurst community and a catalyst to the growth of rugby.
Doctors Michael (photo left) and Pat (photo right) Calcagno both played rugby in their high-school and college years. Pat pursued his career after being inspired by the chiropractic care he received as a teenage rugby player. Mike had a similar experience in returning to competition from a football injury after only nine days of chiropractic treatment.
Today, the Calcagno brothers operate five clinics together in the greater Chicago area. In addition to adjusting patients and overseeing their team of doctors, Dr. Pat handles the business decisions and Dr. Mike manages operations and quality of care.
The Calcagno brothers are not only dedicated to excellence in chiropractic care and physical therapy, but also growing the sport of rugby. For years, Mike and Pat Calcagno were instrumental in advancing the top-ranked, internationally recognized rugby program at Life University.
"The friendships I developed with players on the rugby program have become lifelong… and helped me become the man I am today" said Dr. Mike.
"Rugby was the bond," Dr. Pat says, "but Chiropractic was the calling."
Dr. Mike has served as clinical director and treating physician of the Elmhurst Clinic since its establishment in 2006. Dedicated to treating patients with a variety of sports-related injuries, helping them stay healthy and perform to the best of their abilities, Dr. Mike has made Olympia a staple for healthy living and rehabilitation in Elmhurst.
A graduate of Immaculate Conception High School in Elmhurst, Dr. Mike received his bachelor's degree from Bowling Green State University, and his doctorate of chiropractic from Life University. Dr. Mike amassed several notable achievements in both rugby and football. A former member of two Rugby Super League professional teams in South Africa, as well as the Chicago Lions and Chicago Griffins – Dr. Mike has played rugby for 17 years and given back to the sport his entire life. During his studies at Bowling Green, Dr. Mike was also an all-conference linebacker for the Bowling Green Falcons.
Dr. Mike serves as the team doctor for Elmhurst Rugby, York High School cross country and track team, as well as the strength advisor and assistant coach for the Immaculate Conception High School football. He specializes in speed & strength training young athletes and pediatric health care. Dr. Mike, his wife Dawn and their five children are Elmhurst residents and personally invested in our community. Notably, Dr. Mike is the Director of Kickoff for Kids, a nonprofit that fosters education and fitness programs for children in the greater Elmhurst community.
Dr. Pat Calcagno received his bachelor's degree from Eastern Illinois University, and his doctorate of chiropractic from Life University. Dr. Pat has been in private practice for the past 15 years, and has served as the team doctor for the Chicago Blaze Rugby and the Northwest Woodsman Rugby Club. He currently serves as team physician for Glenbard North High School Men's Wrestling Team. Dr. Pat's area of expertise is functional training and fitness. Dr. Pat and his wife Julie have four children.
We are proud to have partnered with the Calcagno brothers and have Olympia as the official provider of athletic training, chiropractic and physical therapy for the Elmhurst Rugby Club.