Elmhurst Rugby Marches in St. Patrick's Day Parade with Olympia and Pints
4 March 2017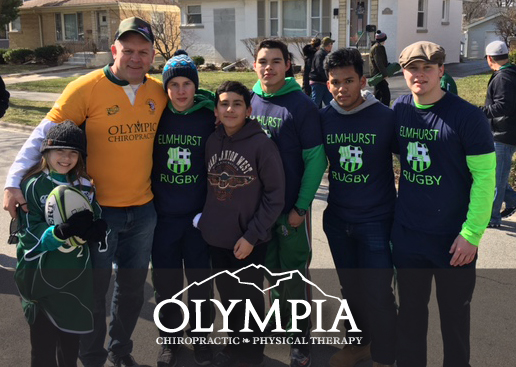 Elmhurst Rugby marched today in the Annual St. Patrick's Day Parade. We were very proud to walk alongside Pints of Elmhurst with whom we've partnered to expose more of our community to the fine sport of rugby.
Our boys also had a chance to visit with Dr. Mike Calcagno of Olympia Chiropractic and Physical Therapy. Dr. Mike took time to share with the club his experiences with rugby, how it shaped him into the man he is today, and stressed his continued support of Elmhurst Rugby. Olympia also served as a Gold Sponsor for the Parade, just one example of Olympia's exceptional dedication to our community.
Elmhurst Rugby is incredibly fortunate to have Olympia as our premier partner and Pints as a strategic partner with the shared goal of growing rugby in our Elmhurst Community.
We look forward to participating next year and a long, successful future in Elmhurst.