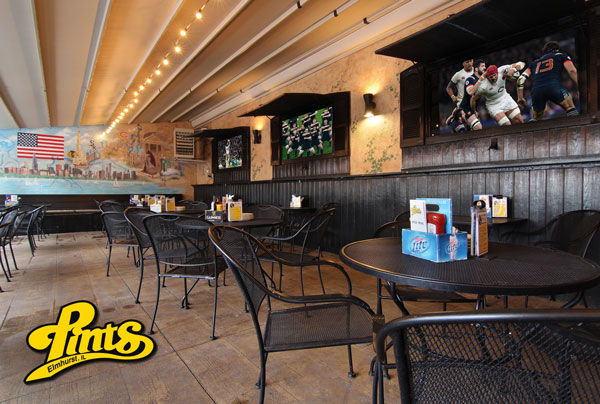 Pints Supports Rugby in Elmhurst
24 March 2017
Pints becomes the official rugby headquarters in Elmhurst to provide all rugby families, fans and enthusiasts the opportunity to view televised matches in a great, family-friendly environment. Showing their support not only for Elmhurst Rugby Club, but the sport we love so much, Pints is truly a remarkable partner in our Elmhurst Community.
Pints Elmhurst is a family friendly, neighborhood Sports Pub and Restaurant that features gourmet burgers, sandwiches, salads and tasty appetizers all served by a friendly, attentive staff. Serving over 20 craft brews on tap and 50 more bottles, Pints is the ideal local pub to enjoy a bevarage not available elsewhere.
The 17 HDTVs makes Pints the perfect place to catch a rugby match with friends or make some new ones, as well as watch a host of other sporting events. The relaxed and comfortable atmosphere, superior service and creative bar fare make Pints a great place to hang out!
The highlight of the pub is the first of its kind, fully retractable roof covering the entire garden. It is the first convertible food and beer garden in Elmhurst and makes for a great space for private parties, gatherings and those big matches!
What we love most about Pints is that it is locally owned by the Blessing Family whom have given so much back to our community. In their sixth year of operation, the Staff at Pints are also truly invested in being a part of what makes Elmhurst great. Partnering with Pints was an easy decision for Elmhurst Rugby Club not only because of what they are doing for rugby, but most importantly because of what they do for our community.
Check out the Upcoming Events section on our homepage, as well as our social media pages, for announcements about upcoming rugby viewing parties at Pints Elmhurst!